Teams and Walkers
Select A Team:
Walk For Water
Event Info
The Walk For Water is a pure volunteer movement and event -- WE NEED YOU TO HELP!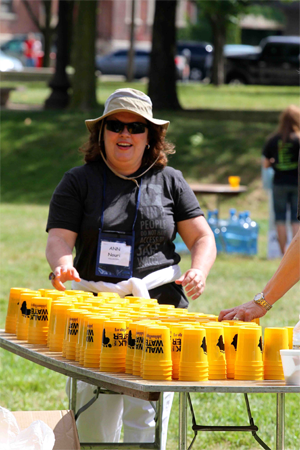 We have over 40 volunteer roles to fill, and we will be glad to find one that is just the right fit for you. Most of the roles are needed for the day of the event on Saturday, August 3, from 7 a.m. to 12:30 p.m.
Click Here
to register to volunteer

If you would like to learn more about volunteer opportunities, please contact Myrna Dowden (Volunteer Coordinator) at (317) 440-8657 / myrna.dowden@yahoo.com or Ned Campbell at (317) 517-0512 / ned.jubilee@gmail.com .
VOLUNTEER ROLES
Registration Worker: Welcome and sign in volunteers and walkers, hand out buckets, t-shirts and volunteer supplies, and direct volunteers and walkers the day of the Walk

Water Station Worker: Fill and distribute water cups to Walkers along the Walk route; engage, answer questions and collect donations from interested passers by

Bucket Brigade Worker: Fill the water buckets of Walkers at the turnaround point at the Indy Water Canal

Finish Line Worker: Celebrate, congratulate and direct Walkers as they finish the Walk and collect, organize and empty their buckets. Provide water, fruit and snacks to Walkers as they complete the Walk.

Kids' Activities Worker: Organize, set up and staff kids' activities the day of the Walk

Set Up / Tear Down Worker: Assist with the set up and tear down of tents, supplies, displays, etc., the day of the Walk