Teams and Walkers
Select A Team:
Walk For Water
Event Info
Starting at the north end of the Indy Canal Walk at the Admiral Spruance Memorial Basin, walkers take their empty 5-gallon buckets on a 1.5 mile route to the south end of the Canal Walk in White River State Park. At this halfway turnaround point, walkers fill their buckets and make the 1.5-mile return trip with their full (or partially full) bucket of water.

This 3-mile Walk is symbolic of the typical daily walk made by millions of Africans every day to fetch water for their families. The Walk takes between 60 to 90 minutes to complete.

The cost to participate in the Walk For Water is $40 for Adults and $25 for Students (kids 12 years and under are free). All proceeds go directly to help fund JVP's next Community Safe Water Project in western Kenya.
(Registration deadline for free t-shirts has passed. T-shirts will only be available in limited quantities on a first-come, first-serve basis)
.

The Walk takes place on Saturday, August 3, 9:00 a.m. to 12:00 noon.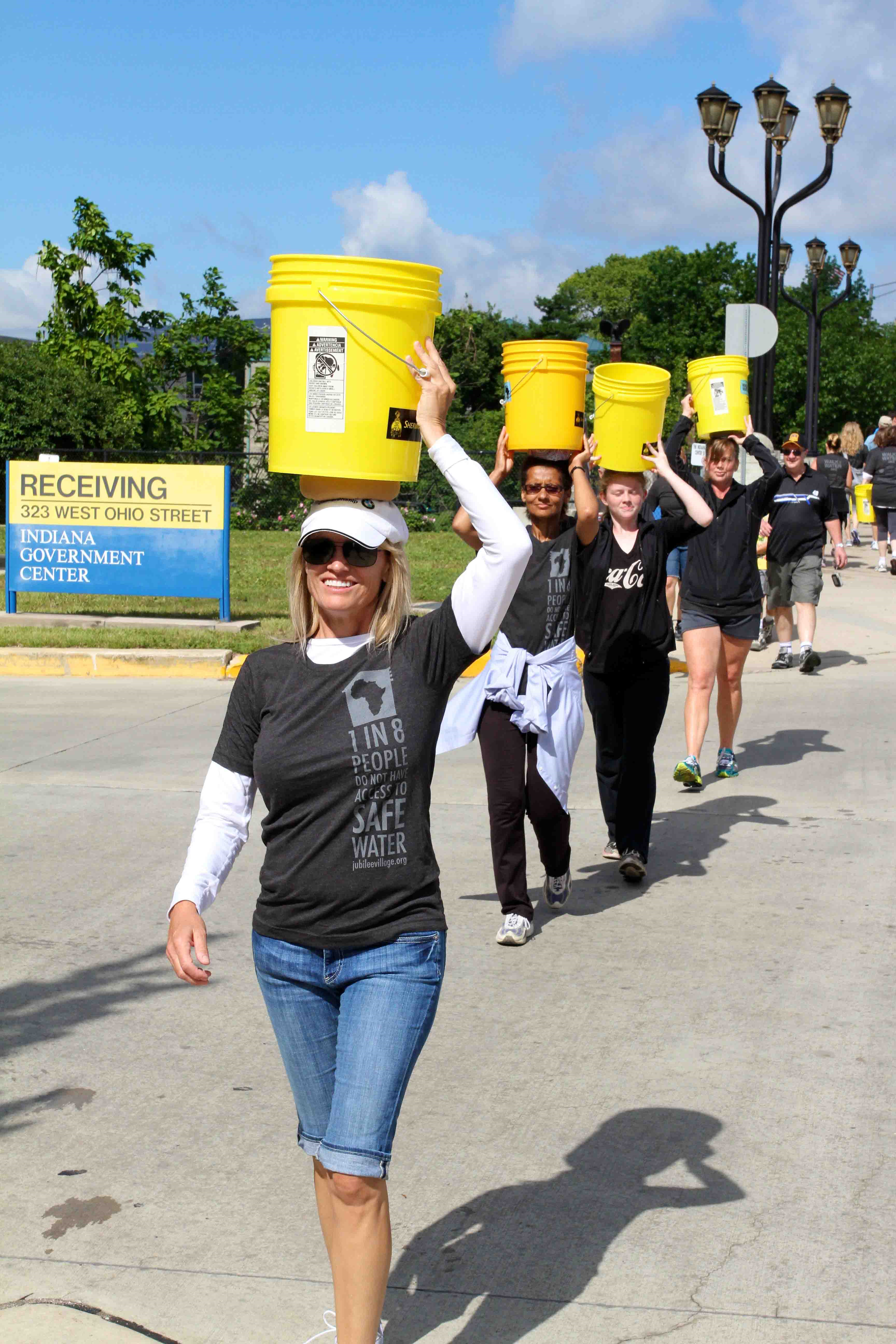 EVENT SCHEDULE
9:00 AM Walk Registration Opens
10:00 AM Opening Ceremony
10:15 AM Walk for Water Begins
11:45 AM Last Walkers Finish
Closing Ceremony
Raffle Prizes

At Walker Registration, Walkers do the following:
- Check-in and receive their 5-gallon bucket and t-shirt
- Turn in additional money if they raised funds
- Congregate for the Opening Ceremony

EVENT ACTIVITIES
In addition to the Walk, there will be other activities the day of the Walk at the Indy Canal Walk
- Kids Activities
- Ministry Displays by the Jubilee Village Project and Jubilee Spree
- Post-Walk Fruits and Water for Walkers and Volunteers

EVENT FEES
Adults $40
Students (13 and older) $25
Children (12 and under) Free
All Walkers are encouraged to help the Jubilee Village Project meet our one-day goal of raising $25,000 by raising funds via sponsors or making a donation of their own. Donations may be given online.

WALK CONTACT INFO
For more information on the 2019 Indianapolis Walk For Water, contact Ned Campbell at (317) 517-0512 or
ned.jubilee@gmail.com
.